Let me start off by clarifying, this is a new PART-TIME job, I'm still working full-time at my beloved alma mater, Lancaster Bible College <3.
My part-time gig is this…check it out: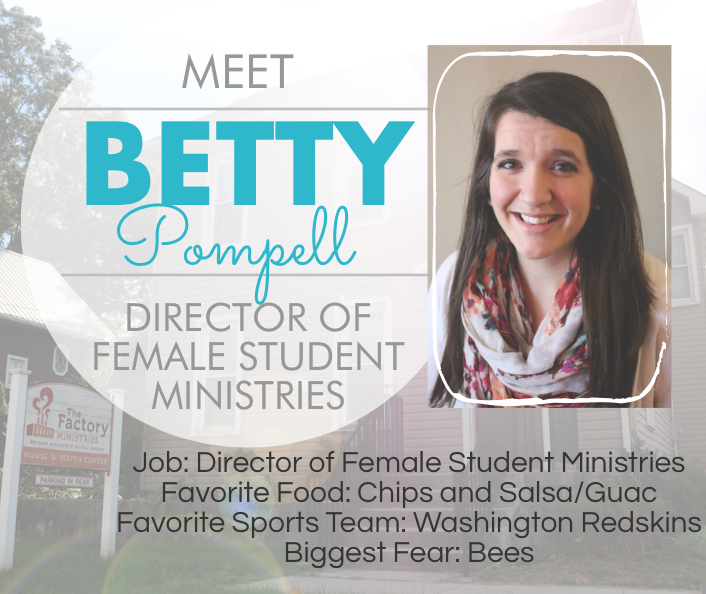 Pretty sweet, hu? For the record, I really struggled with those last 2 questions. Like job title and favorite food-EASY! But favorite sports team? Umm…I've got like 10 teams that I love equally and am equally uninformed about! And biggest fear? God! But I can't put that…what else am I legit fearful of? If a bee is near me, I leave. So that counts as my biggest fear, I figured.
ANYWAY, on to the important stuff! The job! God has been stirring in my heart for quite some time recently about having a heart for ministry. I love the ministry I do at LBC, but have felt like there was something else, something additional that I am to be doing and pursuing. And, in typical God fashion, at the perfect time and in the perfect way, He brought me to this opportunity.
Pretty much, here's the gist of the job: any opportunity I have to invest in, love, care for, support, encourage, aid, or teach girls of Pequea Valley area: do it.
Whaa?
HOW IS THIS EVEN REAL LIFE?
It sounds too good to be true, but it isn't! What I am most passionate about (read my life goals for proof) I get to do for 15 hours a week-and get paid for it! What a blessing from the Lord!
The Bible, the book I try to base my life on, tells us OVER and OVER to live for God and people; to love God and people; to serve God and people, to immensely value God and people. And I have the blessing of being able to aim to do that in a specific area, with a specific group, and being led and supported by a specific ministry team.
So, when you think of it, feel free to pray for this:) Pray that I am able to invest in, love, care for, support, encourage, aid, serve, and counsel the girls God  brings my way with gospel-centered wisdom and selflessness. Pray for the fruits of the Spirit in me. Pray for fulfilling and joyful life change in the hearts of the teens that only Jesus can bring. Pray for the Factory Ministries leadership, staff, volunteers, and supporters.
Thank you, dear friends!